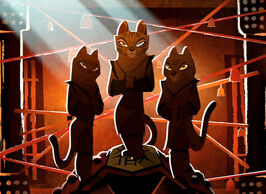 The Wu Sisters are a trio of evil Snow Leopard sisters appearing in the short film Kung Fu Panda: Secrets Of The Masters. Their names are Su Wu, Wan Wu and Wing Wu.
Origins
The Wu Sisters originally appeared in concept art for the original Kung Fu Panda film. When they were scrapped, they later appeared in Secrets Of The Masters, where they were the main antagonists.
Roles
Su Wu, Wan Wu & Wing Wu appear together as the Fates in Baltcules. Su Wu has a role by herself as Sabor in Baltozan.
Portrayals
Kung Fu Wolf- Played by Mirage, Delilah and Isis
Kung Fu Street Rat- Played by Maleficent, Eris and Vanessa