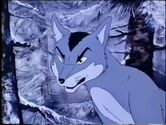 Scarface is a villain character in The Animals Of Farthing Wood.
About Him
Scarface is the primary antagonist in Season two of The Animals of Farthing Wood. He dies when he is bitten by Adder.
Portrayal
In The Animals Of Animation Wood- Played by Steele
Roles
Played as Foxy in Five Nights at Smolder's
He is a pirate fox animatronic
Played as Nizam in Prince of Zootopia: The Sands of Time
He is an evil Persian prince
Played as Darth Maul in Animation Star Wars
He is a Sith lord
He is a Cyborg Sith lord
He is a mad scientist
Played as King Agag in Krypto
He is a murderer
He is a Fire Nation admiral
He is a Bengal tiger.
He is a buffalo.
He is the Murder and Thief
Gallery