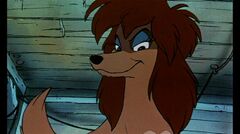 Rita is a beautiful female Saluki dog who first appeared in the 1980's Disney film Oliver & Company. She is one of PrinceBalto's favorite female animal characters.
Origins
Rita first appeared in Disney's Oliver & Company. She is the sole female among Fagin's canine gang. At one point, Roscoe hits on her. She rejects him. She has an amazing singing voice.
Roles
She is a collie
She is a beautiful Irish setter
She is a beautiful Sa'luki
She is a gorgeous Arabian princess
She is an ancient Greek beauty
Esmeralda in The Hound Of Notre Dame
She is a beautiful gypsy
She is a beautiful British woman
She is a fairy
She is a reporter
She is a princess
She is an African princess
She is a cheetah
Portrayal
Role In PrinceBalto's Crossover
Rita is also a main character in PrinceBalto's fanfiction crossover. Rather than pair her with Dodger, as is common in the fandom, PrinceBalto has shipped her with his character Solomon, a large, handsome German Shepherd. The two are very much in love and very devoted to each other. The couple has many pups, including Maya, Bolt, Chase, Tara, Malina, Hayden and others. Her parents are named Ramses and Nefertari.
Other Fan Shippings Involving Rita
Gallery