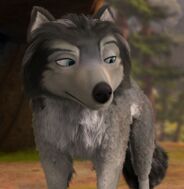 Humphrey is the lead character of the Alpha & Omega series. He is the mate of Kate & the father of Stinky, Claudette & Runt. His sister-in-law is Lilly.
Origins
Humphrey first appeared in Alpha & Omega. He is a handsome omega. He is Kate's mate and the father of their pups.
Roles
He is a super saiyan
He is a hobbit
He is a panda
As Adult Simba in The Wolf King
He is a lion
As Genie in Baltladdin
He is a genie
He is a raccoon
He is a deer
He is a Spanish con artist
He is a one-eyed green monster
He is a funny blue bunny
He is the Mad Hatter
He is from Neverland
He is a bear
He is an orangutan
As Joseph in Humphrey: King Of Dreams
He is a Biblical figure
He is a firebender
Portrayal
In PrinceBalto's spoof of Alpha & Omega, Humphrey is played by Po.
In fanfiction
In The Anthro Chronicles, he is dating Krystal.
Gallery