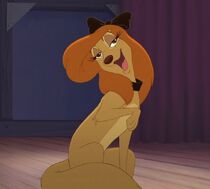 Dixie is a female character from The Fox and the Hound II. She is a gorgeous southern-accented, red-haired canine country girl, a Golden retriever to be exact. She was voiced by country singer Reba McEntire.
About Her
Dixie originated in Disney's 2006 midquel film The Fox and the Hound II. She is a beautiful Golden retriever. She is Cash's girlfriend in the film.
Roles
How The Wolf Stole Christmas (2000)- Adult Martha May Whovier
She is a who
Beauty & The Echidna- Belle
She is a princess
Mystery Animals- The Bowler
She is a superhero
Snow Dogs (PrinceBalto Style)- Nana
She is a Border collie
Superwolf: The Movie- Lois Lane
She is a reporter
My Little Alpha: Friendship Is Magic- Applejack
She is a pony
Portrayals
In PrinceBalto's spoof The Wolf-Dog & The Hedgehog II, Dixie is played by Tigress from Kung Fu Panda.
Romance With Krypto And Brainy Barker's Son
In PrinceBalto's AU crossover of Krypto and Fox and the Hound II, Dixie breaks up with Cash following the events of the film, though they bury the hatchet. Later, at the annual Metropolis Stock Show & Rodeo, Draco, son of Krypto and Brainy Barker, meets Dixie and they have a dinner date that evening, leading to them falling in love.
PrinceBalto's Fanfiction Info
Husband- Draco
Sons- Cody & Dakota
Daughters- Reba & Phoebe
Father-in-Law- Krypto
Mother-in-Law- Brainy Barker
Sister-in-Law- Mammoth Mutt
In PrinceBalto's interpretation of Zootopia
In this Disney crossover, she is romantically involved with Bolt. Both are anthro. Dixie is a country singer here.
Gallery