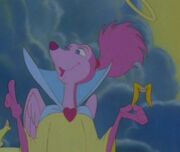 Annabelle is a character from All Dogs Go to Heaven. She is the head angel in heaven and also the cousin of Belladonna. In PrinceBalto's portrayals, Annabelle is the namesake of Charlie and Sasha's oldest puppy, so in any fan fiction featuring both Annabelles, this one is sometimes referred to as "Annabelle the Elder" to avoid mixing them up. 
Description
She is a beautiful, pink whippet with extra fur on her head tied like bunches of hair (at first with a bow and then simply with a band).
Origins
Annabelle originated in the All Dogs Go to Heaven series of films and also appeared in its TV series. She is constantly having to keep Charlie Barkin out of trouble. She was voiced by Melba Moore in the first film and Bebe Neuwirth, the voice actress for Mirage in the Aladdin TV series and also the voice of Belladonna, from the sequel on.
Roles
Aniu in Charto
She is a white she-wolf.
Frigga in Hunter
She is a Norse goddess.
Sarabi in The Angel Dog King
She is a lioness.
Portrayal
In All Animals Go to Heaven, Annabelle is played by Kanga.
In Fanfiction
In the continuity of PrinceBalto's animal film crossovers, Annabelle is the mother of Krypto, having had him with a male Kryptonian dog named Kanto.
Gallery